Will Terry Richardson become the Tiger Woods of fashion? Where after one woman who feels wronged by him comes forward, fifteen follow?
Last week, Rie Rasmussen told the Post that Richardson manipulated young girls into doing nude shoots they'd sooner or later find shameful
. This week, another of his subjects comes forward with detailed accounts of what her Terry Richardson experience was like. Jamie Peck writes on
The Gloss
that she's "not a model, just a vain girl with nice tits who likes to pose for the occasional cheesecake photo."
She posed for Richardson when she was 19, and he did not fall into the same category as "all the fine folks I've frolicked au naturel for," she writes. "He's the only one who's left me feeling like I needed to take two showers."
After meeting Richardson at a party, claims Peck, where she posed for him the first time, she went over to his studio for a second shoot. He made her tea, and then she danced around naked while the Yeah Yeah Yeahs album played on repeat and he took her picture.
He asked her to call him Uncle Terry, and she did, so as not to seem like a fun spoiler.
All of that was fine, but the second time Peck went over to his studio for a shoot "was the weird one." And then her post starts reading like a Sex Diary:
Before I could say "whoa, whoa, whoa!" dude was wearing only his tattoos and waggling the biggest dick I'd ever seen dangerously close to my unclothed person (granted, I hadn't seen very many yet). "Why don't you take some pictures of me?" he asked. Um, sure.

So his assistants took pictures of me taking pictures of him. All the while, he was dropping names like they were hot, casually mentioning his upcoming Miu Miu shoot with Maggie Gyllenhall [sic] and Billy Crudup, wondering aloud if he could get the kid from Elephant to model, and suggesting I come upstate with him and his fab celebufriends. I wish I could say this didn't impress me, but I was fucking 19 and nerdy as hell, okay?
Peck alleges that he got her to perform sexual favors and offered her a signed print as payment, which she declined to accept since she "felt so gross about the whole thing."
She never went back, but she later heard her picture wound up in Purple, which is edited by Richardson's guy Friday, Olivier Zahm.
Source


Nicki Minaj rounded up her troop of Harajuku Barbies, clad in hot pink wigs and helmets, and stormed the desert of Lancaster, Calif., to shoot the Hype Williams-directed video for "Massive Attack," the first single from her debut album.

The hip-hop heroine stars in the action-packed clip, which includes a helicopter chase and a militaristic jungle scene. Amber Rose and Sean Garrett make cameos, and even Drake stopped by to pay his Young Money cohort a visit.

"It's gonna be a fucking bomb," Garrett told Rap-Up.com of the track, which he produced and is featured on. "It's very, very explosive! The record puts her in the game in a way that says she should've been here a long time ago."





SOURCE
A hefty-looking Val Kilmer hits the red carpet for a screening of his new movie, MacGruber, at the Paramount Theater during the South By Southwest Film Festival on Monday (March 15) in Austin, Texas.
"The entire script is kind of designed to ruin my career," the 50-year-old actor joked during the MacGruber panel.
FYI: Kilmer plays villain Dieter von Cunth, who steals a nuclear warhead from his sworn enemy, MacGruber (Will Forte).
THR says MacGruber is "utterly disposable but diverting."
JJ
---
Lindsay Lohan's dad had a heart attack today, according to his girlfriend/non-doctor Kate Major.
Michael Lohan was taken to a hospital in New York after suffering chest pains that radiated to his arms. Kate says an EKG showed evidence of a heart attack.
Kate says Michael is at St. Francis Hospital in Manhasset. She says Michael will undergo a "procedure" but wasn't specific.
Back on March 6, Michael suffered chest pains and was told by his doctor that he needed a heart catheterization.
Source

When I first heard Hawaii Five-O was getting the remake treatment I wasn't that interested. I only vaguely remembered the original series and it was one step closer to rebooting Magnum P.I. (how sacrilegious would will that be?) in my opinion.

However, I've begun to shift in the other direction regarding this series as more casting news comes out.

The most recent addition is James Marsters. Probably best known as Spike from Buffy The Vampire Slayer, Marsters also played Brianic on Smallville and Barnabas on Caprica. As exciting as it may be to have him on the new Hawaii Five-O it doesn't sound like he'll have a continuing role, at least not yet. Marsters will be in the pilot and appear, "as the nemesis of lead character Jack McGarrett."

At this point it seems producers Robert Orci and Alex Kurtzman (Star Trek, Transformers, Fringe) are trying to capture the geek community for the new show. Marsters joins a cast that encapsulates geek programming; Grace Park (Battlestar Galactica), Daniel Dae Kim (Lost), Jean Smart (24), and Alex O'Loughlin (Moonlight) are already on deck. With Scott Caan on board as well suddenly Hawaii Five-O is a show I can start to get behind.

Source

I will never not love Spike so if Marsters ends up attached to this I might end up watching. It will be interesting to see him get out of sci-fi on television if he does get a more permanent part. In the meantime enjoy my favorite cover song Marsters has ever done.


---
Amber Rose rocks a leather jacket with spiderweb detailing as she visits the Curve boutique on Robertson Boulevard on Tuesday (March 16) in Los Angeles.
The 26-year-old model and girlfriend of Kanye West was joined by a few friends for a fun day of shopping.
Yesterday, rapper/singer Nikki Minaj had Amber, her BFF, on set for her first music video, "Massive Attack"!
Amber and Nikki shot a scene in a hot pink Lamborghini - head over to MTV.com for more details on the fun shoot!
SOURCE
NEW YORK — Lil Wayne was sentenced today to a year in jail in New York City for having a loaded gun on his tour bus in 2007, then was taken away in handcuffs to begin his term immediately.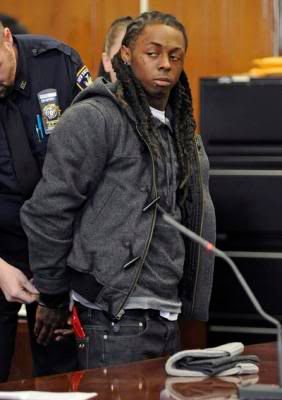 The Grammy Award-winning rapper, born Dwayne Carter, was sentenced in Manhattan after pleading guilty in October to attempted criminal possession of a weapon.
He admitted having the loaded .40-caliber semiautomatic gun on his tour bus.The rapper will serve his sentence in city jails, not a state prison. He could be released in about eight months with good behavior.
Before Monday's court appearance, it had proved difficult to actually begin Lil Wayne's agreed-upon sentence.
First, the rap star's sentencing was postponed in February so he could undergo surgery on his bejeweled teeth. Then, a fire shut down Manhattan's main criminal courthouse while he was on his way there last week.
Lil Wayne has been one of music's most prolific and profitable figures in recent years. His "Tha Carter III" was the best-selling album of 2008. His latest album, "Rebirth," was released last month.
Facing jail with his career in full throttle, Lil Wayne has prepared with a burst of work and farewell shows and videos for fans. He said in a video clip sent last week to MTV News that he shot footage for seven music videos with various artists in one night over the weekend.
He told Rolling Stone for a story last month that he planned to keep working while behind bars.
"I'll be still rapping in there, have a gang of raps ready when I come back home," he said.
With good behavior, he could be released in about eight months.
City jail officials haven't said where the multiplatinum-selling artist will be housed among their roughly 13,000 inmates. His lawyer has said she plans to ask for protective custody out of concern for his safety and health following his extended oral surgeries.
bye weezy
Evan Lysacek was seen walking out of his DWTS practice in Los Angeles with his bff Vera Wang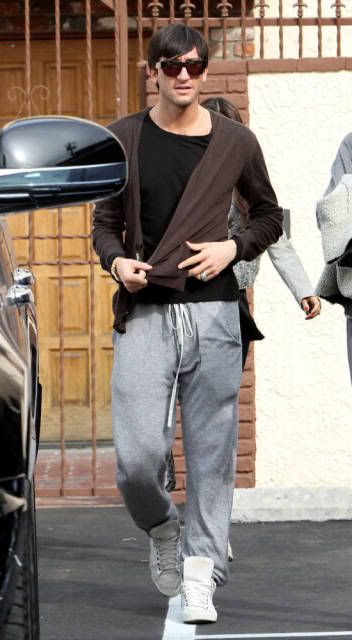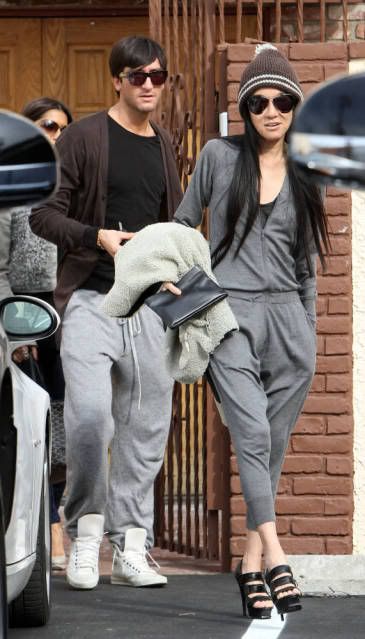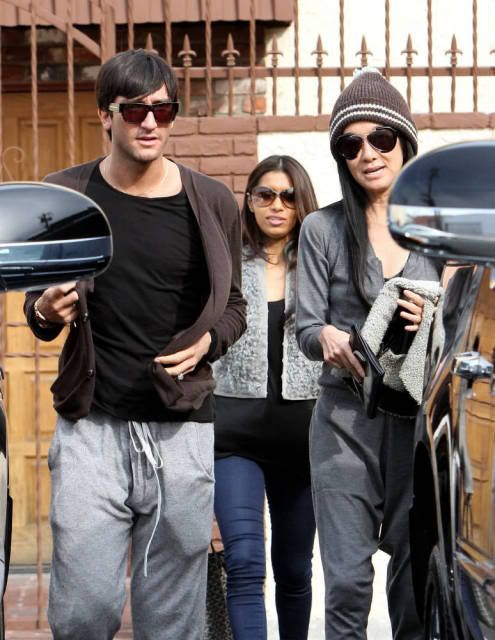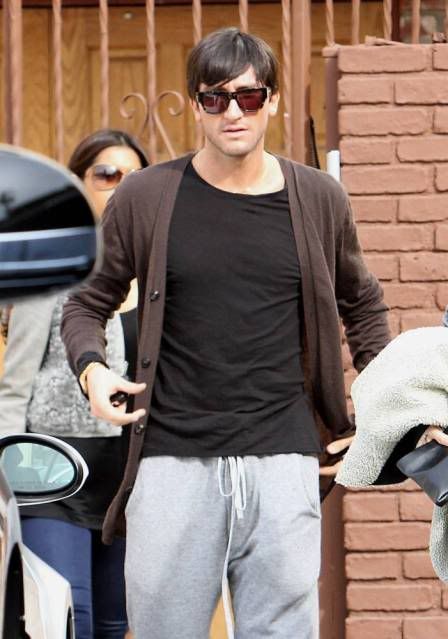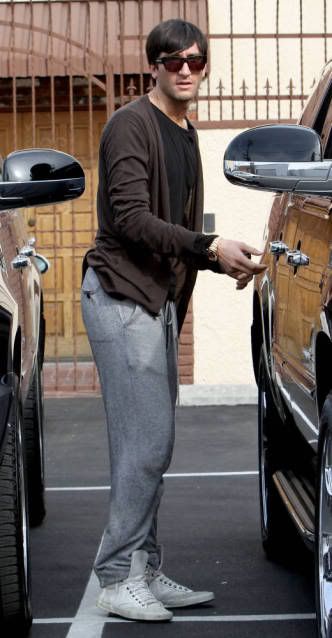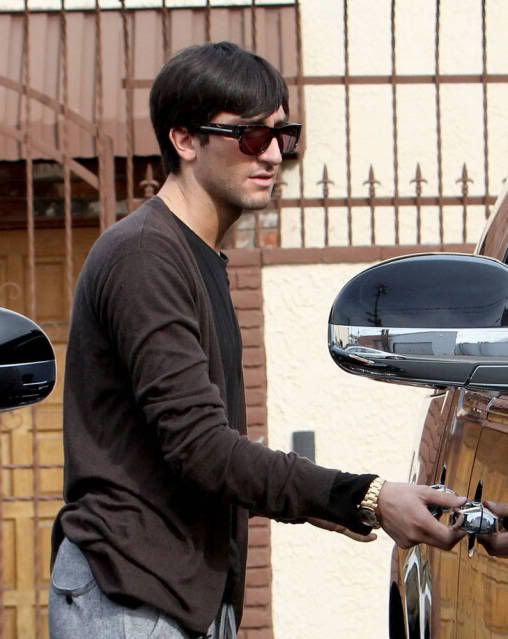 Source

Sandra Bullock
Grade: A-

The Best Actress winner channeled Old Hollywood in an embroidered lace and metallic Marchesa sheath, which was perfect for showcasing her golden Oscar statuette.



Mariah Carey
Grade: D

Although she was dripping in diamonds, Mimi bombed once again in this Valentino Haute Couture disaster and nude platform heels. Somehow the diva managed to look frumpy and age-inappropriate all at once.



Miley Cyrus
Grade: C

The "Hannah Montana" star's champagne Jenny Packham gown was gorgeous, but the 17-year-old's hunched posture simply didn't do it justice.



Queen Latifah
Grade: A

The Queen reigned supreme in a regal lavender figure-hugging satin gown, which she accessorized with diamonds and pink sapphires courtesy of Chopard.



George Clooney
Grade: B

No one wears a classic tux better than gorgeous George (pictured here with girlfriend Elisabetta Canalis). But what was up with the "Up in the Air" Best Actor nominee's limp feathered silver coif?



Zoe Saldana
Grade: C

The "Avatar" star took a chance in a violet Givenchy couture gown. We loved the sparkling bodice and ruffled tulle skirt separately, just not together.



Jake Gyllenhaal
Grade: A

The "Prince of Persia" hottie struck a pose in a custom-tailored Burberry tuxedo. Yum!



Jennifer Lopez
Grade: B+

J.Lo's iridescent pink Armani Prive creation had the "wow factor" the diva said she was looking for in an Oscar gown. The cascading ruffles contributed to the dramatic effect.



Kristen Stewart
Grade: A+

The "Twilight" sourpuss looked much less awkward than usual in a stunning strapless midnight blue Monique Lhuillier gown. Kristen topped off her look with a classy diamond bracelet by H. Stern.



Kate Winslet
Grade: B-

Winslet opted for a boring bustier gown by Atelier Yves Saint Laurent and Tiffany & Co. jewels. Though elegant, the dress lacked the flair she's typically famous for.



Penelope Cruz
Grade: A

The Spanish beauty was simply ravishing in a dusky red draped Donna Karan gown, chic bun, and Chopard jewels.



Ryan Seacrest
Grade: B+

The busiest man in Hollywood was all smiles in his black Burberry tux and skinny silk tie. Don't his spiked locks remind you a little bit of a certain "High School Musical" star?



Zac Efron
Grade: A

It's easy to see why Zac had all the young ladies screaming at him from the red carpet bleachers.



Meryl Streep
Grade: B

Although she couldn't wait to kick off her Jimmy Choos, Meryl -- who has the honor of being the most nominated actress in Oscar history -- stood proudly in a plunging white gown by "Project Runway's" Chris March.



Maggie Gyllenhaal
Grade: B+

The Best Supporting Actress nominee made a bold choice for the evening with this floral Dries Van Noten column gown. Kudos to Maggie for being one of the few who was willing to take a step outside the generic Oscars red carpet box!



Mo'Nique
Grade: B+

Best Supporting Actress winner Mo'Nique looked better than ever in a beautiful bright blue Tadashi Shoji gown and floral hair accessory.



Anna Kendrick
Grade: B+

The Best Supporting Actress nominee originally selected a blue dress for her Oscars debut, but had a change of heart and opted to wear an Elie Saab Couture off-the-shoulder blush gown instead. Love the dress, but we're not too sure about the chunky shoes!



Vera Farmiga
Grade: D+

The "Up in the Air" Best Supporting Actress nominee looked like she should be serving up sangria in her ruffled flamenco-style Marchesa gown.



Gabourey Sidibe
Grade: A-

The Best Actress nominee was absolutely "Precious" while working it in a blue off-the-shoulder Marchesa creation. Gabourey also won some extra points for her sass: "If fashion was porn, this dress is the money shot," she laughed on the red carpet.



Ryan Reynolds
Grade: B+

The hunky actor dressed to impress in a beautifully tailored tux. Scarlett Johansson is a lucky girl indeed!



Charlize Theron
Grade: A-

Although her lilac Christian Dior frock created a controversy due to the strategically placed rosettes on her bust, we loved the two-toned gown's overall elegant silhouette.



Taylor Lautner
Grade: A-

The "Twilight" heartthrob popped his signature lopsided pose in a Dolce & Gabbana ensemble.



Carey Mulligan
Grade: B-

At first glance, we adored the Best Actress ingenue's interesting Prada frock, which was embellished with Swarovski crystal flowers, forks, knives, scissors, and other random trinkets. But upon closer inspection, the everything-but-the-kitchen-sink gown's asymmetrical line seemed to detract from its beauty.



Helen Mirren
Grade: B

The Best Actress nominee delivered another command performance in her sparkling silver satin crepe and tulle Badgley Mischka creation. If only we could all look this good at 64!



Demi Moore
Grade: A-

The 47-year-old was sexy yet sophisticated in a ruffled silk organza Atelier Versace number. Congrats go out Demi for skillfully matching her skin tone to her gown!



Sarah Jessica Parker
Grade: C+

Fashionistas like SJP can afford to take chances on the red carpet, but the "Sex and the City" star may have alienated a few of her fans in this top-heavy citrus silk Chanel couture gown.



Tina Fey
Grade: A-

Although the "30 Rock" funny lady has had some fashion flops recently on the red carpet, she put her best foot forward at the Oscars in a muted leopard print Michael Kors gown. We're not really feeling the hair, but she wins our vote for most improved.



Robert Downey Jr.
Grade: A

The "Sherlock Holmes" star (with wife Susan Downey) was a fan favorite in his outrageous ensemble. Only RDJ could pull off casual kicks and a turquoise bow tie at the Academy Awards!



Cameron Diaz
Grade: A-

Cammie D. epitomized Hollywood glamour in her strapless embellished Oscar de la Renta gown, which she accessorized with a Cartier diamond ring and loose sideswept 'do.



Colin Firth
Grade: A

"A Single Man" Best Actor nominee looked suave and sexy in his single-breasted penguin suit.



Faith Hill
Grade: F

For some reason, the country songstress opted to go trashy goth for her walk down the Oscar red carpet with her hubby, "The Blind Side" star Tim McGraw. From the extreme lace-embellished slit to the patent-leather bustier, this outfit is a failure from head to toe!



Lenny Kravitz
Grade: A

Kravitz upped the cool factor on the Oscar red carpet. It's hard to look bad in tux, but let's face it: the "Are You Gonna Go My Way" rocker would look hot in a potato sack!



Zoe Kravitz
Grade: B+

Lenny Kravitz's 21-year-old daughter was pretty as a picture in a pale pink and red velvet strapless sensation.



Rachel McAdams
Grade: A-

Rachel McAdams was another red carpet risk taker in a romantic Elie Saab number. The muted tones and flowing panels of organza and mousseline added to the dress' fairytale effect.



Sigourney Weaver
Grade: B+

The "Avatar" star's winning streak on the red carpet continued with this elegant red one-shoulder Lanvin number. Although we've seen her wear similar styles this awards season, the 60-year-old still puts women half her age to shame!



Tom Ford
Grade: A

The "A Single Man" director spiced up his traditional tux with a white floral boutonniere. When Ryan Seacrest asked Ford who he was wearing, the designer sarcastically replied, "Tom Ford."



Molly Ringwald
Grade: A-

The '80s "It Girl" donned a bold purple goddess gown -- which perfectly complemented her fiery red tresses -- to pay tribute to her late "16 Candles" director John Hughes during the Oscars telecast. A chunky arm band completed her look.



Tyler Perry
Grade: B

Although many know him as his on-screen alter ego Madea, the "Precious" executive producer looked quite distinguished in his dapper threads.



Nicole Richie
Grade: B+

Richie appeared ready to disco the night away at Studio 54 in a sequined Reem Acra dress and Judith Leiber clutch. Although she looked quite sophisticated, the vintage-style gown threatened to overwhelm her waif-like figure.



Amanda Seyfried
Grade: B+

Although the "Dear John" star's sculptural Armani Prive gown had a beautiful silhouette, the color and her nude makeup washed out her pale skin tone.



Chris Pine
Grade: A

The "Star Trek" cutie looked out of this world in his classic black tux.



Virginia Madsen
Grade: F

The "Sideways" star was a sheer disappointment in her lace and chiffon mess of a dress.



Diane Kruger
Grade: C+

You can always count on the "Inglourious Basterds" star to don something fashion forward such as this cream and black Chanel couture number. But like the floral embellishment in the middle, we're divided on this gown.



Elizabeth Banks
Grade: B

The "W." actress played it safe in a gun metal gray Versace gown, which she accessorized with a Salvatore Ferragamo clutch.



Antonio Banderas and Melanie Griffith
Grade: D-

From Antonio's bushy beard to Melanie's revealing sequined gown, the enduring Hollywood couple failed to impress. Oh, Antonio, you used to be so sexy!



Mariska Hargitay
Grade: A

The "Law and Order: SVU" actress' ruffled navy Vera Wang gown accentuated her hourglass figure. Fred Leighton jewels and an elegant updo added to her chic look.



Paula Patton
Grade: B-

The "Precious" actress flaunted her baby bump in an orange Carolina Herrera creation.



Kathryn Bigelow
Grade: D

Although she looked a tad uncomfortable in her taupe gown, the night belonged to "The Hurt Locker's" Bigelow, who became the first woman ever to win an Oscar for Best Director. Can you believe James Cameron's Amazonian ex is 58?!



Sherri Shepherd
Grade: C

The "View" hostess, who wasn't shy about showing her support for "Precious," sported a fairly figure-flattering one-shoulder Carmen Marc Valvo gown.



Sam Worthington
Grade: B

The "Avatar" Aussie (with girlfriend Natalie Mark) looked delicious in his tailored suit, skinny tie, and sexy scruff.



Kathy Ireland
Grade: C-

ABC's red carpet correspondent would have scored a higher mark if we were just grading the gown, but we couldn't take our eyes off that disastrous updo!



Jane Seymour
Grade: B

The British-born beauty proved she could still heat things up on the red carpet at 59!



Giuliana Rancic
Grade: C+

Although the E! host didn't look bad in her Gustavo Cadile creation, she paled in comparison to the real stars on the red carpet.

source
---